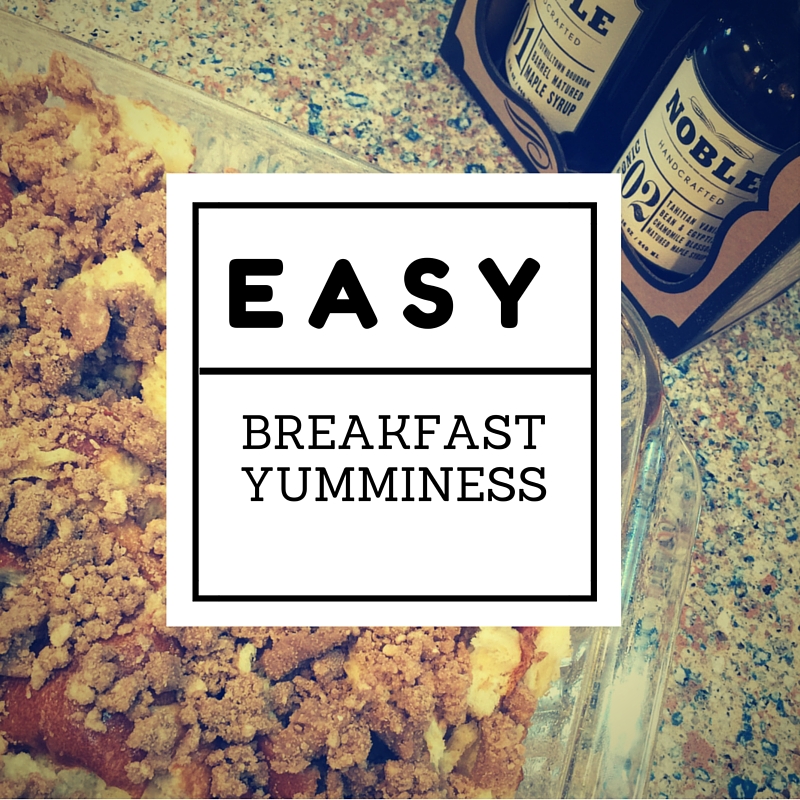 I LOVE breakfast, but I am one of those people who need to be awake for a bit before I like to eat.  I am always on the hunt for amazing (sweet) yummy things to eat for my favorite meal.  When I stumbled across this fabulous recipe from Kim's post on her blog Lovin' From the Oven I was super excited.   It checked off all the boxes.  Easy-check, sweet yumminess-check, kids love it-check, and even better,  enough for some left overs-check!  I absolutely love that you can basically prepare it the night before and then pop it in the oven while you are waking up and waiting for your coffee to brew.
This baked French Toast made the whole house smell spectacular.  It is cinnamon yumminess at it's most awesome.  Warm, soft goodness with a crunchy cinnamon top that soaks up the warm syrup. We could hardly wait for it to finish baking.  And then when we pulled it out of the oven it looked just as amazing as it smelled.  The ultimate test- as we pulled it out of the oven our teen and pre-teen got out of bed and came running down the stairs to see what was in the oven cooking.  The review from the kiddos?  Epic breakfast!  And that is from our picky eaters.  Tried it out a second time the very next weekend when my daughter had a sleepover with a friend, again when we hosted five exchange students at our home. It has now become our go to breakfast on the weekends.  I guess you can say we are hooked on this yumminess!
So I have a little secret to share with you, I have a grand dream to someday own a Bed & Breakfast.  I love, love, love B & B's!  The quaintness, meeting fun and interesting people from all over the world, hearing their stories and especially sitting around the table breaking bread together while enjoying the inn owners love of cooking for others.  My husband and I seek out B & B's whenever we travel and can accommodate it.  They combine many of my favorite things, decorating, entertaining, talking, inspiring a love of travel and of course cooking.  I have been gathering breakfast recipes and cookbooks for years to build a library of great breakfasts to amaze and wow our someday guests. This one has joined the list.
Needless to say this breakfast recipe was a mic drop for this working Mommy.
CINNAMON BAKED FRENCH TOAST
Ingredients
1 LOAF STALE BREAD (I USED CHALLAH, BUT HAVE ALSO USED BRIOCHE)
8 WHOLE EGGS
2 CUPS MILK
1/2 CUP HEAVY WHIPPING CREAM
3/4 CUPS SUGAR
2 TABLESPOONS VANILLA
1/2 CUP AP FLOUR
1/2 CUP FIRMLY PACKED BROWN SUGAR
1 TEASPOON CINNAMON
1/4 TEASPOON SALT
1 STICK COLD BUTTER, CUBED
Instructions
GREASE A 9 X 13 INCH PAN. PREHEAT THE OVEN TO 350 DEGREES.
TEAR THE BREAD INTO CHUNKS AND PLACE THEM IN THE GREASED PAN.
MIX TOGETHER EGGS, MILK, CREAM, SUGAR, AND VANILLA.
POUR THE MIXTURE EVENLY OVER THE BREAD. COVER AND REFRIGERATE OVERNIGHT.
IN ANOTHER BOWL, MIX TOGETHER THE FLOUR, BROWN SUGAR, CINNAMON, AND SALT. ADD THE BUTTER AND MIX UNTIL THE BATTER COMES SOMEWHAT TOGETHER, LIKE LITTLE PEBBLES. (I USED A FOOD PROCESSOR TO MAKE THIS EASIER AND FASTER) STORE IN A PLASTIC BAG IN THE FRIDGE.
TAKE YOUR PAN WITH THE SOAKING BREAD INSIDE AND SPRINKLE CRUMB MIXTURE ON TOP.
IF YOU LIKE SOGGIER FRENCH TOAST, BAKE FOR 45 MINUTES. FOR A FIRMER FRENCH TOAST, BAKE FOR AN HOUR.
SERVE WARM WITH MAPLE SYRUP AND BUTTER, IF DESIRED.
http://joyfultrek.com/cinnamon-baked-french-toast/