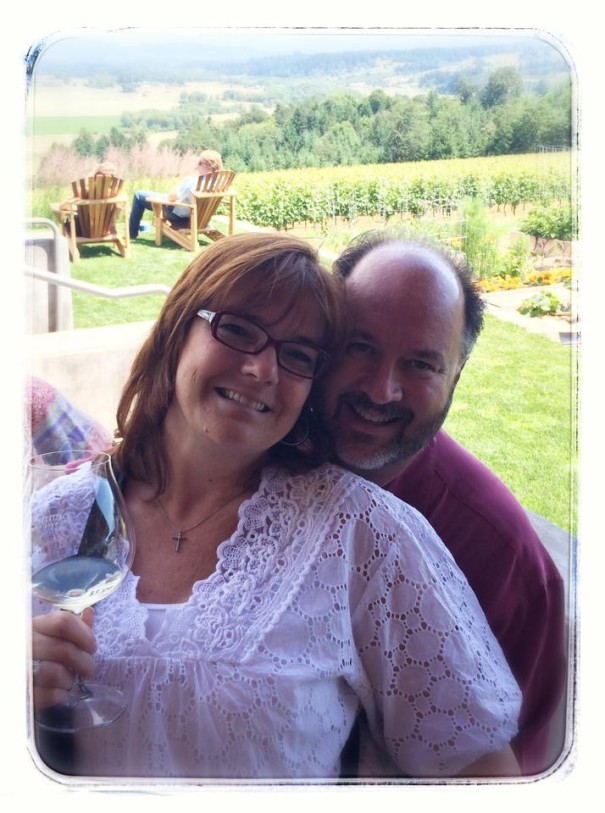 Life is quite a journey! Finding joy along the wonderfully winding path is my greatest passion. I am a crazy multitasker, savorer of fabulous food, curious cooker, adventurous spirit, lover of all things gardening, laugh out loud kind of gal, rock band enthusiast, dreamer, busy working Mom of two amazing, compassionate, sparkly kiddos. I try to create a life filled with fun, playful moments for my family and friends.
I am an Indiana kid whose soul is from the Pacific Northwest.  Growing up in the flat corn fields of Indiana I had big dreams to see the world beyond.  Since high school I wanted to travel to France and then got the bug to go to Italy in art appreciation class in college and the travel bug just grew from there.  I never really felt like I fit in Indiana. Ironically, I choose a career in newspapers that allowed me to live in New York, Montana and eventually brought me to where I finally had a sense of place- Oregon.  The moment I came here I knew I was home!  And I love everything the northwest has to offer.  It's a weird, quirky, outdoorsy, foodie paradise, wine country, friendly, gorgeous kind of place and that suits me just perfectly!
I have been able to free my foodie soul here and work on honing my cooking skills with my super-awesome-cook-of-a-husband. We have access to some of the most amazing farms and farmers market and fresh organic ingredients.  This place is a cook's and food-lover's heaven! You can find me experimenting with cooking new recipes to satisfy my foodie love and to try to find delicious food my kiddos will eat.
You'll also find me indulging in my Pinterest obsession trying out lots of crafts so I can spend more quality time creating with my sparkly Paige.  She is becoming a Pinterest queen with me and together we have lots of fun finding projects and recipes to try out.  Miss Paige is becoming quite to cook, though most of her pins are cute French and English bull dogs, cats or Paris photos.
I didn't always have a green thumb.  Once upon a time I couldn't keep an indoor plant alive to save my life.  I still struggle indoors, but I discovered that outdoors something magical happens.  I started small since I don't have much space in my yard.  Then I discovered the Urban farming movement (we kinda own the market on that in Oregon) and my tiny space started filling up.  I have 40+ pots of beauty on my patio with apples, figs, herbs, tomatoes, peppers and even a lemon tree that takes up residence in my bathtub during the winter.  You might find me digging in the dirt looking for ways to improve and grow my garden, including my big project for 2016 -to build a Poteger garden in my front yard. I am excited to grow more of our own food to try new recipes and to eat more organic.
I love parties!  I grew up in a pretty frugal home raised by a single steelworker Dad.  My sister and I always share a birthday party since our bdays are only two weeks apart.  And I never got to have my favorite chocolate cake because my sister hates chocolate.  Needless to say, as a grown up my one non-negotiable for my special day is…yep you guessed in chocolate cake with chocolate frosting.  I want my kiddos to have epically fun birthdays!  So each year we work on creating a theme to have a magical experience.  Once again you'll see my Pinterest addiction in play and how that has rubbed off on Miss Paige.
I always dreamed of traveling as I was growing up in Indiana.  We mostly went to visit family in Ohio and West Virginia but we did make it to Florida and even New York.  As long as I can remember, I have always had a wanderlust in my soul and dreamed of traveling to new and exotic places.  Luckily I married an amazing guy who also loves to travel too.  He's a pretty awesome travel buddy among other things.  I hope you will enjoy our family adventures and the ways we love to explore our beautiful state of Oregon and plan new adventures to far away places.  I am so passionate about experiencing other places, cultures and creating joyful experiences for my family that will create memories to last a lifetime.
In the space when I am not working in the non-profit world trying to make my community a better place, I am filling the space with lots of delightful fun.
I would love for you to join me on this joyous trek!